General Purpose Process Display
Nov 27, 2018
Fluidwell introduces the F190 General Purpose 4-20mA Input Display
Robust and user-friendly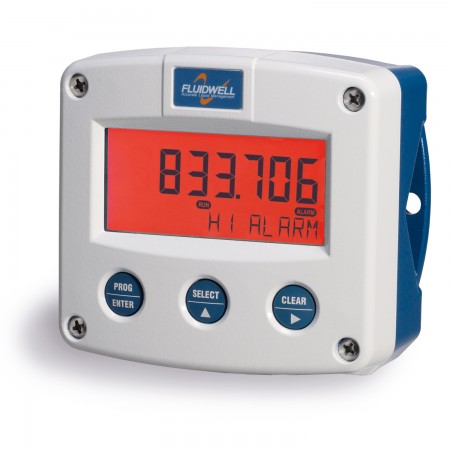 The F190 is a versatile General Purpose Indicator with continuous monitoring feature. As well as the focus on applications for the measurement of: level, temperature and pressure (e.g. °C, °F, Bar, L, m3), the F190 can also work with other measuring units, like %, mA, RPM and more. Therefore, the F190 is a versatile system that suits many applications. 
The F190 accepts (0)4 - 20mA input signals from any type of analogue measurement device. It offers the facility to set two low and two high alarm values. The F190 combines the functionality of the existing F090, F143, F153 and F170. Thanks to its rugged design, the F190 can withstand extreme weather conditions including rain, snow, sun as well as sandy deserts, humid and salty atmospheres and temperatures between -40°C/-40°F and +80°C/+178°F without the need for expensive protective cabinets. 
Mounting made easy
The F190 has a multitude of mounting possibilities enabling it to fit in a panel, on a wall , bulkhead or even mounted onto pipework. In fact, mounting, installing and programming the F-series is extremely easy and user-friendly. Your own commissioning crews can swiftly execute installation themselves, saving the cost, time and hassle of hiring external specialists.
User-friendly

The configuration of the F190 is achieved via a simple, logical and menu-driven structure, without the need for jumpers or switches. The on-screen alphanumerical descriptions enhance the understanding of the system and its settings.  F190 is like all products in the F-Series range, designed according the 'Know one, know them all' – principle. Once familiar with an F-Series product, users can program ALL models in ALL series without the need for a manual. Fluidwell allows users to save on programming time and costs, during installation and with each setting modification.
Features Overview

General Advantages
♦ Wide range of engineering units for e.g. level, temperature and pressure and other applications
♦ Possibility to create a custom measuring unit with max. 8 characters.
♦ Key information at a glance: actual value with measuring unit, %, alarm values.
♦ Robust IP66, IP67 (NEMA Type4X) field enclosure.
  It is so rugged, even a truck can drive over it! See the video here>>
♦ Intrinsically Safe - ATEX and IECEx approval for gas and dust applications.
♦ Users can program the products themselves, with the intuitive menu-driven structure, saving cost, time and hassle - Know one, know them all!
♦ Extensive mounting possibilities: walls, pipes, panels or directly onto outdoor sensors
Hazardous area information
The F190 is certified according ATEX and IECEx by DEKRA for use in Intrinsically Safe applications with an ambient temperature of -40°C to +70°C (-40°F to +158°F).

The ATEX markings are:                 Gas:  II 1 G Ex ia IIB/IIC T4 Ga
                                                                Dust:  II 1 D Ex ia IIIC T100°C Da
The IECEx markings are:                Gas: Ex ia IIC/IIB T4 Ga
                                                                Dust: Ex ia IIIC T100°C Da
More information
Curious about the application possibilities of this versatile Multi-Purpose Indicator?
Feel free to contact a Fluidwell expert: sales@bellflowsystems.co.uk